Review: Stay with Me by Ayòbámi Adébáyò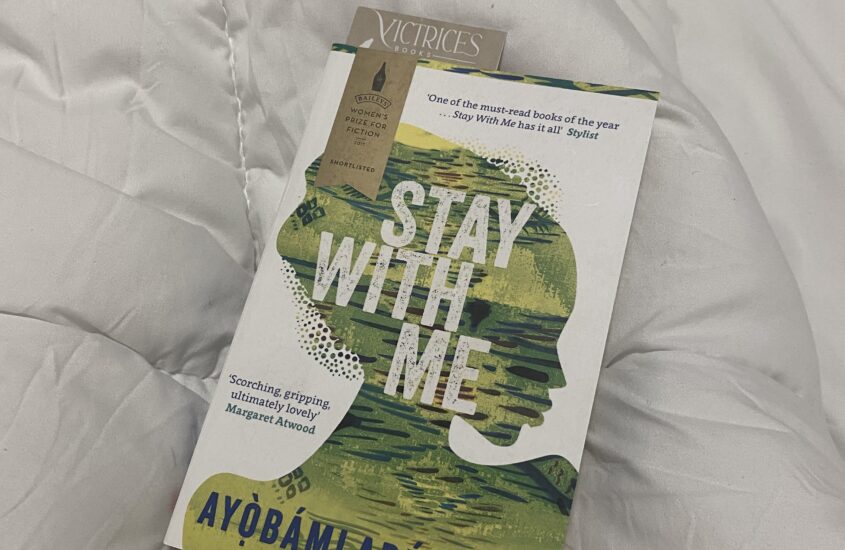 There is so much to treasure in Ayòbámi Adébáyò's debut novel. Its originailty, for one, they are many novels on broken families and couples, many on domineering, abusive parents and in-laws. In the midst of such a timless subject, Adébáyò delivers with aplomb a story that startles and guts you.
I don't want to give anything away… but this novel is definetely a masterfully paced plot, where secrets unfurl and shock you even at the very end but its safe to say that its about a woman driven to her absolute end by her in-laws and her husband. Yejide is masterfully created, gloriously independent, sharp and fierce. Her sense of worth in Nigerian society is inseparably tied to her baby-bearing ability; though she desperately wants a child, she finds herself unable to conceive. Facing her in-laws increasing ill will, she dabbles in superstition, magic and prophets, a whole world of belieds that she, a modern Nigerian, used to dismiss without a second thought. She starts to unravel when her in-laws impose a second wife on Akin, her husband.
The novel's touching force comes from the fact that this family drama is played out against the loud political climate of the 1980s, where one does not know what the next day holds. The future's dangerous, foggy mess: politicans keep secrets, the army keeps its silence, and families have their own load of unspeakables.
What is a woman's 'place', when security comes with men, when opportunities for women are handed to them depending on how favorable they are to their husbands? Stay with Me also captures the division of the African developing nation, one that struggles to reconcile traditions and superstition with tehnology and the modern world.
"The character's voices are an absolute delight throughout, from salon gossping to marital fights, the dialogue is on point, as realistic as they come, laugh out loud while you cry brilliant. Take Yejide's thoughts at the beginning of the novel, for instance, when the in-laws come into her home and announce that Akin is to have a second wife: I had expected them to talk about my childlessness. I was armed with millions of smiles. Apologetic smiles, pity-me smiles, I-look-unto-God smiles […] I was armed with smiles for my lips, an appropriate sheen of tears for my eyes and sniffles for my nose."
She then cooks a meal with bad leftovers for them, and they have diarrhea. The seamless blend of laughter and private disaster pulls the reader in from the very start; it's something you read where you deeply care for the characters and stay with you even after the last page.
⭑⭑⭑⭑
Author: Ayobami Adebayo
Genre: Fiction
Pages: 298